Fun with McCain - iPhone wasteland Taleban amnesia
Saturday, November 1, 2008
One iPhone per Child OIPC
Like the OLPC (one laptop per child).
US low income persons are starting a trend! On thursday October 30th 2008
PCWorld
posted an article stating "Lower-income U.S. consumers are Flocking to Apple's iPhone".
The article also states that "smartphones are
changing from a luxury to a necessity
, according to research company ComScore Mobile."


A necessity to lower income folks? The article posts statistics of purchases grew fastest among people with annual household incomes between $25k and $50K with an 48% growth rate in that group. Now the phone cost $199 plus a $70 monthly charge from ATT with a family of 4 and say 3 of those 4 need a cell phone for one reason or another well that's a lot of cash if you ask me per year.


Next Generation - prototypes ... IPhone Nano - iPhone Shuffle
iPhone running Parallels .. fake.
iPhone MEGA.

iPoor is the real iPhone Killer
iPhone crotchet work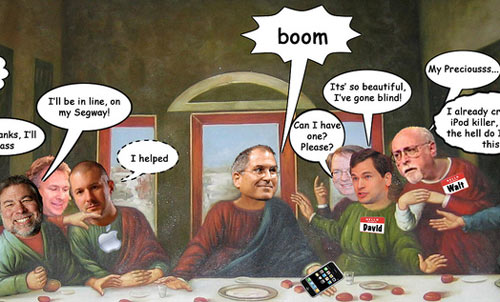 In other news:
Senator John McCain isn't going to let Barack Obama hog the iPhone spotlight. He's got an iPhone application, too
all you can do with McCain's app is play with the senator's face. But some presence on the iPhone is better than no presence, right? Heh, heh.
Watch the video (above). Only Jailbroken (hacked) iPhones can download the app through Cydia. Interested? Check out the developer's site for detailed instructions.
---
Computer?
Star Trek IV: The Voyage Home
- The Enterprise command crew, on their way back to Earth in their stolen Klingon ship, have to travel back in time to find humpback whales in order to prevent a giant alien probe from accidentally destroying the planet. They also bring a woman back from the past, without even the slightest discussion about how doing so might change history. I really wish I could've been there when the idea was first pitched: "Funny, I could've sworn you said 'whales.' What are they looking for, again?"
HALLOWEEN iPHONE APP

The iPhone App Store's flooded with plenty of Halloween applications, but HorrorScope is the only one I've found that isn't all that cheesy.
As its name implies, it's a horoscope reader, only it tells you about all the horrific stuff that's going to happen to you each day.
"Count your blessings," reads my Scorpio HorrorScope for Oct. 26. "If you had survived the attack, you would have contracted rabies, and it takes like 20 injections to cure that."
Pretty funny app -- probably one you'll delete immediately after Halloween -- but it's free, so why not give it a try?
You are sitting in front of the Computer again?
This is what you soon might look like:
Seriously
Maybe we all need to GET OUT THERE AND
DO SOMETHING
:
The Taliban are not well understood by anybody. We don't know who they are, why they take up arms, what their goals are. There is not even one Taliban. There are many groups who call themselves the Taliban and many different reasons why people join, Pushtun nationalism, resentment of foreigners, fear of Afghan police, revenge because one of their boys was shot by Americans as he was riding his bike past a checkpoint (true story), the desire to impose their strict brand of Islam, acting as mercenaries for the Pakistanis, whatever, but we don't know them the way we could understand past groups the US fought, because of the danger involved in meeting them. Isn't that an interesting thing to learn? And isn't it relevant if an end to the war is sought? That end will be a political one, as even the American military knows, and there will be negotiations with the Taliban. At this point just about everybody is calling for those negotiations, even if it includes an element of killing the so called 'irreconcilables.' Unless Mr. west is from the Sassaman school of war. Maybe he just wants to kill all the Pushtuns. This worked for the Russians in Chechnya, though it hasn't worked well for the Israelis.

I spent a month in Falluja in the spring of 2004 when it was under mujaheddin control and I came under similar criticism. Three years later, these people were on the US pay roll, and President Bush was praising them.

Some of you people take this war too personally. This is not good vs evil, its much more ambiguous, and if anything you should be grateful for my work, for the light it sheds on your opponents.



MAYBE WE SHOULD FORGET ABOUT IT... BUT HOW CAN WE?
Easy! with .... wait for this:
Amnesia Beams
zapp! Memory gone! Who am I?
A team of scientists from the United States and China announced last week that, for the first time, they had found a means of selectively and safely erasing memories in mice, using the signaling molecule ?CaMKII. It's a big step forward, and one that will be of considerable interest to the military, which has devoted efforts to memory manipulation as a means of treating post-traumatic stress disorder. But some military research has moved in another direction entirely.
In the 1980s, researchers found that even low-level exposure to a beam of electrons caused rats to forget what had just happened to them (an effect known as retrograde amnesia — the other version, anteretrograde amnesia, is when you can't form new memories). The same effect was also achieved with X-rays. The time factor was not large — it only caused memory loss about the previous four seconds — but the effect was intriguing.
One theory was that the amnesia was a result of the brilliant flash experienced when the electron beam struck the retina. And, indeed, it turned out that it is possible to produce amnesia in rodents using a flash of light:
Retrograde amnesia was demonstrated for the 80-, 85-, and 100-V foot-shock test trials. At 40 V the voltage may not have been great enough to be felt by the subject. For groups examined at shock levels above 100 V, the foot shock was so potent that a photoflash was ineffective in producing RA. Our conclusion was that the photoflash was an effective amnesiac until the intensity of the foot shock became more potent than the photoflash; this is consistent with the recency theory generated in serial learning and memory tasks.
This might help explain some of the disorienting effects of strobe lights used as nonlethal weapons, but there seems to have been little further research on this.
---
As James Bond killed box office records in the U.K. with his Halloween movie premiere, 007 fans compiled the ultimate Bond girl piece by piece online.
A graphic design team in England polled 1,000 British men to assemble their favorite Bond girl parts into a complete woman.
Perhaps more than a little creepy, this "Frankenstein Meets Q Branch" exercise resulted in 008 (right) -- a conglomerate woman named for the year of her birth.
She has Ursula Andress' legs, Halle Berry's breasts, Michelle Yeoh's eyes, Jane Seymour's nose, Sophie Marceau's tummy, Eva Green's hair, Rosamund Pike's mouth, Britt Ekland's butt and Maud Adams' hands. Evidently, they didn't vote on a brain.

Quantum Solace the new James Bond movie
---
The Matrix
- Human reality is really just a simulation run by machines so they can milk humans' physical bodies for energy. Once you realize what this simulation is, you can control it, giving yourself super powers, but if you die in the simulation your physical body dies, too. Never mind that programming this rule into the system would be directly contrary to the machines' desire to get everything they can out of humanity. The movie stars Keanu Reeves as a computer programmer and hacker who turns out to be a sort of cyberpunk messiah.
Trent Reznor's Nine Inch Nails edition of the Guitar Hero-like app for the iPhone and iPod Touch lets you tap along to 13 songs from The Slip and Ghosts I-IV on the game's three note tracks, pictured to the right. It's another example of artists using the iTunes app store to sell music in alternate formats and price points.
The goal of Tap Tap Revenge: Nine Inch Nails Edition ($5; iTunes link) is to tap each note as it hits the bottom edge of the game play area. A multiplier kicks in when you're on a roll.
If you score over 150,000 points, you can enter to win an autographed Les Paul guitar and two tickets to any Nine Inch Nails show. You can enter as many times as you manage to score above that level. No funny business: a note on the Tapulous site warns, "We do not tolerate hacking. Any user attempting to submit false scores will be disqualified." The game currently has a five star rating in the Apple App Store.
Challenges include four levels of difficulty, unlockable tracks and a global high score section where the best scores are displayed -- just like the game in your local pizza parlor, except it doesn't reset each night when they close.
This is just mind blowing and couldn't resist not sharing it with you guys. How to get your SSH terminal running on your iPhone. first of all you will need to install three application and you must do them in order.
1.
BSD Subsystem
(size 6.6 MB - Unix tool for the iPhone)
2.
OpenSSH
(size 696.3 KB - OpenSSH server & client)
3.
Term-vt100
(size 81.1 KB - vt100 terminal app)
Once all the above is installed you will immediately find the terminal icon appears on your dashboard.
(
Above image you can see the term-vt100 appearing in the dashboard
)
(
Above image you see when the term-vt100 starts up you can switch to bash
)
Have fun everyone!
iPhone boot screen?
Singleuser boot
--fsck not done Root device is mounted read-only
...
Put your
iphone
in DFU mode and restore to 1.1.4 with itunes
www-personal.umich.edu/~mressl/webshell/img/webshell.jpg
WebShell is a web-based ssh shell.
It runs on any browser capable of JavaScript and AJAX. You can use it from any computer or iPhone/smartphone.
The server is written in Python and is very easy to set up on Linux, Mac OS X, *BSD, Solaris, and any Unix that runs python 2.3.
WebShell is based on Ajaxterm.
Tuesday, November 6, 2007
TIP: Configure BGP routers on the beach from an iPhone SSH session
Are you a busy network or system engineer and need holiday somewhere under the sun? I have a nice tip from a collegue. For the record: he is CCIE.
1. Buy, unlock and jailbreak an iPhone, preferably paid by your boss.
2. Get an EDGE or GPRS SIM data subscription, also paid by your boss.
3. Install a SSH client on the iPhone and you are able to:
- manage your big Cisco BGP routers on the beach.
- manage your big corporate VMWARE ESX clusters
Click the pic to blow up the console details.
Who cares where you are if you are able to fix the every problem from the beach?
Warning:
You can't use the SSH client to do the serious work — if you switch away from the terminal app your session closes. That means if your phone rings in the midst of a session, you're done. But for emergency use out on the road, you can't beat an SSH client in your pocket. Be careful not to lose your session to a backbone router somewhere in a jungle country, because you have fly to it with your heavy laptop with console cable to get it up again.

But how do you get an SSH client on your iPhone?
Steps to do this :
From your apptapp installer application, install the following packages:

1. OpenSSH package,
This will install OpenSSH server and client. I had version 4.6p1-1 from Ste.

2. Term-VT100 package,
This will install an icon for a shell. I had version svn198 from Conceited Software.

3. Reboot the iPhone just to be sure.

4. Hit the new shell icon so a black DOS like shell will open.

5. Type in the after the # ssh root @
Enter the root password of the device and your are in!!

WARNING: Your iPhone itself is accepting SSH clients by now, because you just installed the SSH server too. Make sure to change the deafault root password of your iPhone's SSH server. How to change my root password?

1. Change my root password Locally:
Open shell
Type "passwd
enter in the new password

2. Change my root password remotely:
Download putty.exe if you don't have it. (freeware)
On a Windows machine, enter in the IP Address of your iPhone into the "Host Name (or IP Address)" in putty and hit Open. Accept any authentication dialogues that pop up. Log in as "root" when prompted, with the password "dottie". Type "passwd". You'll be prompted to enter in the new password. done!
how do i log in to iphone using ssh?
You need to install OpenSSH from Installer first. Then, if you are using Mac OS X, use Cyberduck to type in the root as username, alpine as password to login to your iPhone.
Then, right click the file, and choose "info" from the menu. click all the stuff to chmod it to 777.
Find the iPhone's IP address from Settings > Wi-Fi. Choose the Wifi you connected.
SSH with 'root' as login name and 'dottie' as password.
(for 1.02 the pword is dottie, for 1.1.1 and above, it's alpine)
Vista iPhone "Slide me Baby" VistaPerfection "My Computer, Control Panel, My Documents
ZodTTD has done it again, this time releasing MAME4iPhone, the Multi Arcade Machine Emulator for jailbroken iPhones via the Cydia installer application. This emulator will allow you play thousands of your favourite arcade classics, anything from Pong to Mortal Kombat. I can't wait to start enjoying Golden Axe on the road! To install MAME you can find it in the Games section of Cydia.
Based on MAME v0.37 Beta 5
Supports thousands of MAME ROMs
Sounds is supported but off by default. Go to "Now Playing" and slide the sound slider to turn sound on
To press OK. Use RIGHT then LEFT then RIGHT then LEFT to press OK.
Save states not supported
Upon installing a folder /var/mobile/Media/ROMs/MAME/ is already made for you. Place your MAME-titled zipped ROMs in the /var/mobile/Media/ROMs/MAME/roms/ folder
Which Arcade Classic are you going to play on the iPhone? Leave a comment letting us know.
Change Ringtones
iPhone is not just a mobile phone, it's a mobile computer. Pretty right. You may know iPhone is powered by a stripped-down version of Mac OS X, which is actually riding on Unix as its core. So, instead of docking your iPhone and transfer ringtone to/from your iPhone using iBrickr or iFuntastic, you can use SSH to transfer any files (including ringtone) wirelessly.
Login as root with the password dottie. That's standard on iphones. The ringtones are stored under /Library/Ringtones. We just need to copy our audio files there and they are then accessible in your iphone's ringtone selector.
We must convert our audio files to mpeg4 audio layer, first. Luckily, you can do that very easily in iTunes. Select the song you want to use as a ringtone in iTunes. Left click and select "Convert to AAC". Drag and drop that new audio file from iTunes into a temporary folder on your Mac. The converted file has the extension m4a.
Now, all we need to do is copy the file to the ringtones directory:
scp TheTrooper.m4a root@192.168.1.7:/Library/Ringtones
That's it.
When I bought my iTouch I discovered that Amarok doesn't support the latest generation of iPods. It looks like Apple doesn't like the Linux users, it seems to be that they have encrypted the new iPods so you can only use them with iTunes. So I started to search a solution on the net. Almost all solutions that I found were for Ubuntu. So I decided to make one for openSUSE.
First of all you need a jailbroken iPhone with openSSH installed on it. If you don't know how to do this, visit this site (unfortunately you need Mac OSX or Windows to do this).
Install sshfs
You need sshfs installed to mount the filesystem of the iPhone on your computer so we can copy the music to it.
Get the IP address of the iPhone
Settings -> Wi-Fi -> the little more icon of your network
Over there you will find the IP Address.
Mount your iPhone
sudo mkdir /media/iphone/ -m 777
sshfs root@10.10.10.12:/var/root/Media /media/iphone/
ln -s iTunes_Control /media/iphone/iPod_Control
fusermount -u /media/iphone
Add the iPhone to Amarok
Settings –> Configure Amarok –> Add device
Mount / umount settings
Now press the configure button
Upload your songs
Now go to the 'Devices' tab and press 'Connect'. After uploading songs, disconnect the device in Amarok. You need to restart the iPod application before you can play the songs. You can either restart the iPhone or the iPod application by holding the key down for (at least) 5 seconds.
Notice
Make sure the iPhone is and stays switched on and unlocked (no black screen). Otherwise you'll get a message 'Media Device: No mounted iPod found'.
If you get a question 'Media Device: could not find iTunesDB on device mounted at /media/iphone. Should I try to initialize your iPod?', you either did not create the symlink or the mount has become stale. So disconnect and connect again.
As we wrote in this passage, this is for those who still worrying about Apple sending the IMEI of your iPhone. Actually, they does not send any IMEI at all. Read this.
Looks like Apple is going to track your iPhone's IMEI to their server, so that they know how many unlocked iPhone out there. So it is pretty important for you to prevent this happening. Follow this guide that works for Windows and Mac OS X.
I prefer you still edit it. But just one question: is that really useful since Apple already tracked your IMEI? Verdicts say Apple didn't get the IMEI from you, but anyway, just edit it for safe.
All you need is Hex Editor, you can find HexEdit for Windows, and 0xED for Mac Os X.
Step 1. SSH into your iPhone using WinSCP in Windows, Fugu in Mac OS X.
Step 2. Copy "/Applications/Weather.app/Weather" and "/Applications/Stocks.app/Stocks" to the local hard disk.
Step 3. Hex edit these 2 stuff. Look for the offset in "1C30C"
Step 4. Change it to something like this (change "%@" to "00″):
Step 5. Upload it back to the iPhone. Yeah. You are done. Happy unlocked iPhone.
In the previous post, because of heavily dugg story of uneasysicence, we posted a little guide for "fixing" the "exploit" that will send IMEI to Apple. Well, we had said uneasysicence reported may not be true at all but just to edit it for those who still worrying about it. Further, one of our commenter said:
"In the binary code of Stocks.app it looks like the %@ probably reference to the UUID. In Apple speech this is a unique ID of the application itself. More about this UUID. After some research I'm sure that this UUID is identical for the same app on different devices. "
AND
"The german news site heise wrote an article about the message. They used an sniffer which is forbidden by the german law. This shows that the request is going to the apple server. But still, the imie paramter in the URL is the UUID from the application that makes the request. This ID is identical on all more than one (in the meantime I have results from a dozen) phones I've seen."
So, Apple doesn't send your IMEI to their server. Happy unlocked iPhone again. If you are still worrying all about it, follow the guide and "fix" it.
GERMAN ARTICLE (just for safe-keeping)

Diverse Online-Quellen berichten, dass das iPhone bei der Abfrage von Börsenkursen eine eindeutige Geräte-ID an Apple übermittelt, die indirekt auch mit Namen und Adressen der Anwender verknüpft ist. Konkrete Tests von heise Security können Letzteres jedoch nicht bestätigen.
Die Artikel lassen sich auf einen Blog-Eintrag und dieser auf einen Beitrag im Forum Hackint0sh zurückführen. Dort berichtet ein Teilnehmer, dass die iPhone-Applikation Stocks Anfragen der Form
http://iphone-wu.apple.com/dgw?imei=%@&apptype=finance
an Apple übermittle und dabei das "%@" durch die IMEI des Geräts ersetze.
Die International Mobile Equipment Identity (IMEI) ist eine eindeutige Gerätenummer, über die einige Netzbetreiber beispielsweise gestohlene Handys sperren. Die iTunes-Aktivierung des iPhones überträgt diese ID auch an Apple, sodass der Hersteller sie somit einem iTunes-Account und damit einer Person zuordnen kann.
In der Tat findet sich dieser String in der Programmdatei Stocks, das die Börsenkurse anzeigt.
Den naheliegenden Verdacht, dass dabei tatsächlich direkt mit jeder Anfrage die IMEI des Mobiltelefons übermittelt wird, bestätigten die Tests von heise Security jedoch nicht. Zwar fand sich in den HTTP-Anfragen an den Apple-Server tatsächlich eine Zahl, sie stimmte allerdings nicht mit der IMEI des iPhones überein. Außerdem sendete die Wetterabfrage eine andere "IMEI" als das Börsen-Applet.
Somit lässt sich ohne weitere Hintergrundinformationen keine Aussage darüber treffen, ob die übertragene ID personenbezogene Daten enthält. Überhaupt sind Spekulationen, Apple überwache gezielt das Interesse für spezielle Börsenkurse, sehr weit hergeholt. Wahrscheinlicher ist es da schon, dass Apple allgemeinere Nutzungstatistiken führt und die Brisanz der Kombination einer möglicherweise auf Personen zurückführbaren ID und dem Interesse für bestimmte Börsenkurse unterschätzt hat. (ju/c't)
http://www.heise.de/security/Heikle-Boersenkursabfragen-des-iPhones--/news/meldung/99220
posted by u2r2h at Sunday, November 02, 2008