Re: timelapse
Gibbs Farm New Zealand
---
This is a private farm which is owned and set up by
Alan Gibbs
, one of NZ's richest, influential and more controversial men.
The Farm is a 1,000 acre
Sculpture Park
on SH16 about 13 kms north of Kaukapakapa bordering the Kaipara Harbour. It features priceless works by national and internationally renowned artists. The site-specific art works interact strongly with the lanscape and the ever-changing light, creating a lasting impression on all visitors to The Farm. In addition, the exotic animals of the farm, including giraffes, zebras, water buffalo, and yaks, create living sculptures...and Alan?s Aquada car ? well, that?s a technological sculpture in a class of its own!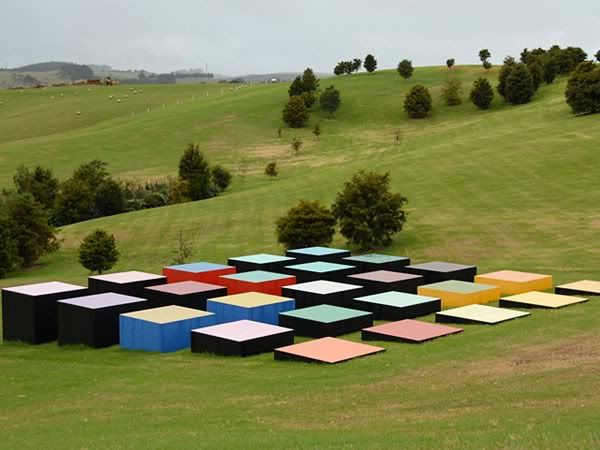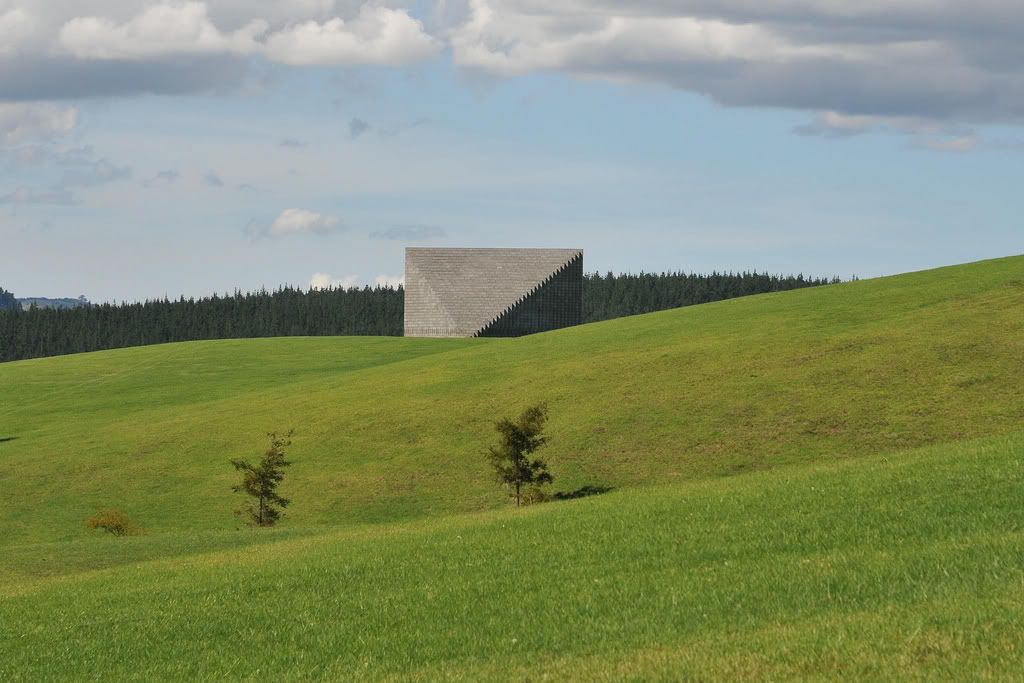 "After just seventeen years Gibbs' collection includes major, and in many cases the largest works by Andy Goldsworthy, Anish Kapoor, Bill Culbert, Chris Booth, Daniel Buren, Eric Orr, George Rickey, Graham Bennett, Kenneth Snelson, Len Lye, Leon van den Eijkel, Marijke de Goey, Neil Dawson, Peter Nicholls, Peter Roche, Ralph Hotere, Richard Serra, Richard Thompson, Russell Moses, Sol LeWitt and Tony Oursler.
Collected at a rate of about one a year (though many take 3-5 years to develop) all bar two of the sculptures are unique and site specific.
While The Farm cannot yet rival the depth of Storm King, Gibbs' artists and works compare well.
In some cases they surpass. For instance the Serra, Buren and large Rickey are more significant works than their New York counterparts.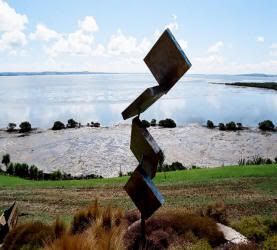 A sample fun weekend activity at the Farm: sit inside the caged ball at the top of the world's largest Tesla coil while several million volts of electricity spin around you before they burst into 40-foot-long lightning bolts. "It'll knock your socks off," Gibbs told me a month later, his voice resonating like a pistol shot over the phone. "We've all been inside the damn thing: It's scary as hell."


Electrum is a sculpture that employs lightning as the major component. Real lightning , which is very rarely seen up close, has the ability to focus and clear the mind. The work stands 38 feet tall and is essentially a column with a sphere on the top. Concealed within the sculpture is a 130,000 watt Tesla Coil. The Tesla Coil is the largest of its kind in the world. Lightning discharges up to fifty feet in length emanate in all directions from the top of the sphere.
The Electrum project is a collaboration between Greg Leyh, high voltage engineer from Lightning on Demand (LOD) in San Francisco, and Eric Orr, sculptor. Leyh represents the scientific aspect that has allowed Orr to manifest a work of art that is singular in its power to transform the moment. Orr has combined primary materials in a number of his water and fire sculptures. The Electrum sculpture is an evolution of Orr's work towards absolute simplicity. The sculpture has the sense of pure industrial strength art. The viewer is bathed in the raw force of nature.
Electrum was commissioned by a prominent New Zealand art patron. The work was installed on his farm in April 1998 outside of Auckland. Pictures of the contruction, testing and installation effort are available in the photo galleries below.
video documentary "Electrum" by Alberta Chu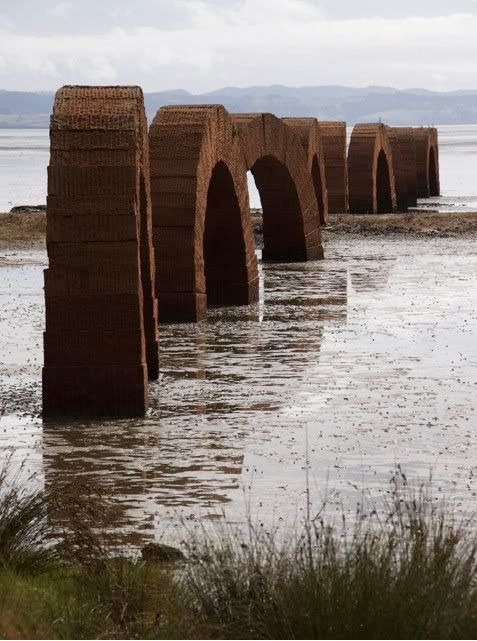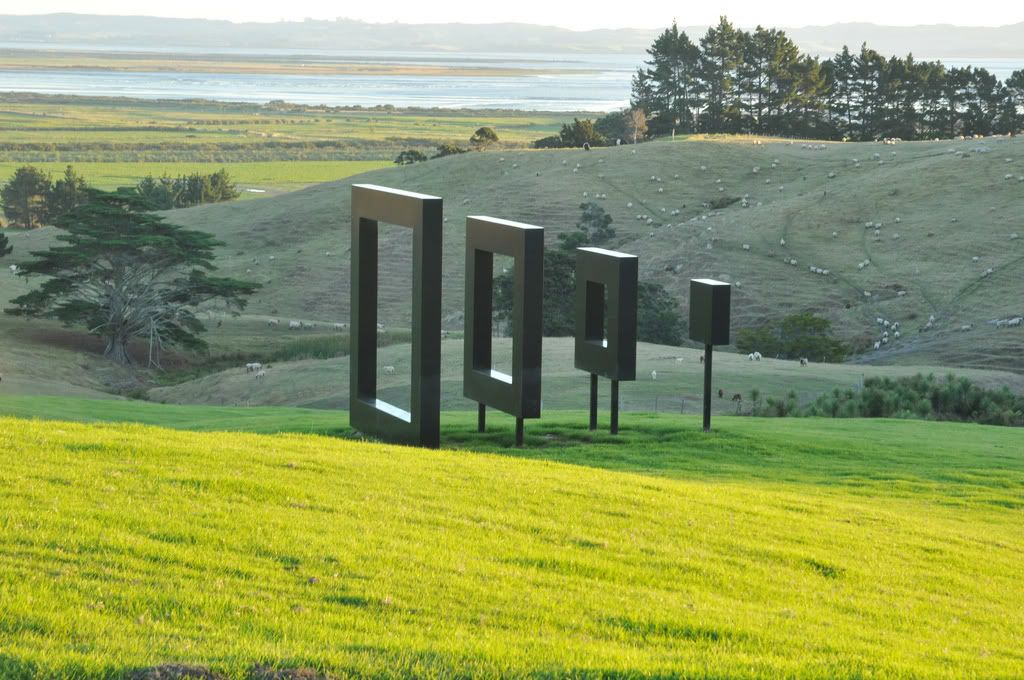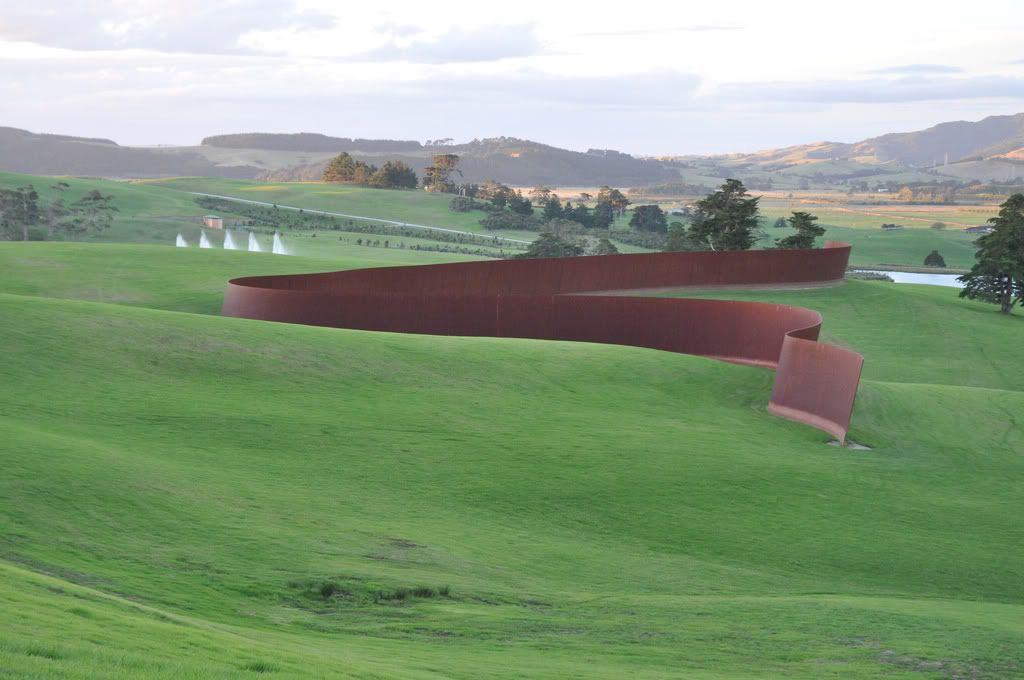 computer wifi link -
The PC Zone Helensville
16 Commercial Road  Helensville
Time-Lapse Package
The Time-Lapse Package is a complete system for documenting construction projects, animal behavior monitoring, analyzing environmental changes, and an amazing variety of other long-term outdoor photographic tasks.
This equipment will yield significantly higher resolution and higher quality images than can be achieved with "web camera" equipment, and is designed to be completely autonomous... no connection to AC power, computers, networks, or video recorders are needed. You own the equipment, and there are no monthly charges!
Except for a few mounting screws to suit your particular application, everything you need is included, and the system can be installed in a as little as a few minutes.
Items included:
Fiberglass Housing, glass window
High capacity internal battery pack.
5 Watt Solar Panel
Harbortronics Solar Charger
Harbortronics Battery Converter
Harbortronics DigiSnap 2700
Canon Rebel XS (1000D) camera and 18-55mm zoom lens
A pair of 16 GB memory cards
Hex wrench, cables, manuals and accessories
Mounting hardware
Shipped fully assembled
Additional Product Photos:
Note: some photos show Pentax cameras. New Time Lapse Packages will ship with the Canon Rebel XS (1000D).
Dual-battery option
Camera mount extends to allow access to camera menus and memory card. The magnetic arm system preserves the camera's original position in the housing.
Closed
Rear
Mounting Examples
Ball Mount
Pole Mount
Part Details (example only, shipped fully assembled)
All Parts
Mechanical
Mounts
Battery Pack & Charger
Circuit Block (top)
Enclosure
posted by u2r2h at Tuesday, February 01, 2011