wishy washy Feel-Good America (so clever!)
It is in USA CINEMAS now.
  Mr rich white man tells us that the world starving masses
will be helped by western bloody empires SHIFT ...
But Tom Shadyac has a foundation...  to help the impoverished.
Let see results.   The noble goals are spelled out on the bottom of this post.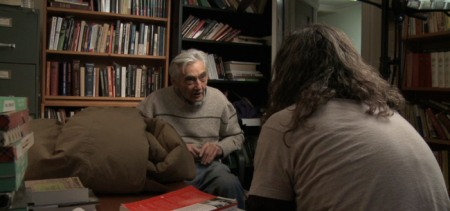 Interview with Howard Zinn before his death
SHIFT they do.  Thanks to this film they will learn how to make the propaganda even more perfect.
The unbearable hypocrisies are fixable, without putting George Bush in Jail, huh?  Dream on.  
http://www.youtube.com/watch?v=PeqB8JwpdE4
  (zinn, chomsky) ... 
Viral ESO-shit (the power of the Heart)  HOW ABOUT DEPELETED URANIUM
"Heart Math Science"    YOGHURT EXPERIMENT   "Neuro cardiology" 
http://www.youtube.com/watch?v=ahpzRWvXxmg
a wEBLOG HIPPIE SPEAKS:
Webinar on 'The Interactions Between the Earth's Energetic Systems and Human Consciousness' by Institute of HeartMath Research Director Rollin McCraty, Ph.D. It was organized by the Global Coherence Initiative
According to Dr McCraty, the Heart has its own complex nervous system – the 'HEART BRAIN'. The heart sends far more information to the Brain than the Brain sends to the Heart. The Heart signals especially affect the Brain centers involved in Decision making, Creativity and Emotional Experience.'
The HEART is extremely Powerful in affecting those around us....it Creates a very Tangible CARDIAC FIELD.......When in a state of Appreciation , heart rhythms are smooth, regular and Coherent....and when Large Groups of people are in this State of Appreciation there are lower incidences of accidents, conflict , etc. In fact when the Heart is in a Coherent state ( a state of Appreciation ) as he calls it, the Brain is able to function the way it is Designed. It is here that we make our Wisest decisions.
2001 new york terror 11 sept, not heart but geomagnetic weapons, see


http://u2r2h-documents.blogspot.com/2011/05/exu2r2h-911-book-free-download-judy.html
http://u2r2h-documents.blogspot.com/2011/05/exu2r2h-matrix-prophetic-film-911.html


Dr. Rollin McCraty spoke at length on the concept of coherence. He says, " Coherence is the state when the heart, mind and emotions are in energetic alignment and cooperation ". "It is a state that builds resiliency – personal energy is accumulated, not wasted – leaving more energy to manifest intentions and harmonious outcomes." 
He discussed 3 different hypothesis...
Hypothesis No. 1: All living things are interconnected and we communicate with each other via biological, and electromagnetic fields.
Hypothesis No. 2: Not only are humans affected by planetary energetic fields, but conversely the earth's energetic systems are also influenced by collective human emotions and consciousness. Much of the planetary field environment is made up of the collective consciousness of the inhabitants.
Hypothesis No. 3: Large numbers of people intentionally creating heart-coherent states of care, love, compassion and appreciation can generate a coherent standing wave that will help offset the current planetary wave of stress, discord and incoherence.
It was SUCH a great reminder to take responsibility for the Energy we put out. We can be more Masterful in our Roles, Utilizing this Creative Energy to Create Deeper Connections and really Operate as our Higher Selves....with every Heart Beat :)
http://www.youtube.com/watch?v=49FGJUz-OoQ
official site
http://www.iamthedoc.com/
Dan Siegel
Writer, social entrepreneur and speaker on politics, film and civil society
Posted: March 7, 2011 11:51 PM
I Am Review: Hollywood Director Exlores What's Right with the World
As the world is transfixed by remarkable change in the Middle East, America's popcorn culture distracts us with another Nicholas Cage road rage movie and the next around-the-clock celebrity train wreck (aka, the Charlie Sheen Show).
Into this void steps Tom Shadyac, Hollywood blockbuster director (Bruce Almighty, The Nutty Professor, Ace Ventura) with his self-financed documentary I Am (opening in LA and NY the next two weekends). The film is a universe away from the pet detective and fat man suit that Shadyac popularized.
I Am is a sure-fire conversation starter about our cultural "mental illness" and the hopeful possibilities for a global mind shift towards greater compassion and human connection.
Shadyac is a refugee from the film industry's lifestyle of conspicuous consumption. He ditched his lonely 17,000 foot Xanadu estate in Pasadena for a modest mobile home in north Malibu. In the midst of downsizing, he suffered a bike accident in 2007 that triggered Post Concussion Syndrome, resulting in paralyzing depression (from which he ultimately recovered).
I Am is the result of Shadyac's rethinking of his priorities and his journey to probe and provoke conversation around two essential questions: what's wrong with our world and what can we all do about it?
To answer these questions, Shadyac hit the road with a four member film crew to converse with a thoughtful mix of philosophers, academics, scientists and spiritual leaders -- such as Archbishop Desmond Tutu, Noam Chomsky and Howard Zinn. Talk show host Thom Hartmann, writer Marc Ian Barash and U.C. Berkeley psychology professor Dacher Keltner stand out as especially fresh and compelling voices.
Shadyac artfully weaves together contributions from this chorus of thinkers and doers to lift up ancient wisdom, critical lessons from the natural world, and insights from new human sciences about how we can live better together.
I Am provides an emotional thought fest that inspires hope for an evolutionary shift. It celebrates the better angels of human nature by spotlighting the deep reservoir of empathy that resides within each of us to act as our brother's keeper.
The film visually puts audiences through a test to prove the point. Sights and sounds of animal violence and human discord are contrasted with scenes of compassion and harmony. During both screenings I attended, the emotional shift within the theater was palatable.
I Am's examination of the long running "greed is good" ethos is timely as Wall Street's restoration kicks into high gear with new bulging profits (and socialized losses). As scientist and environmentalist David Suzuki simply asks: "What is an economy for? How much is enough?"
Likewise, the film's footage of the successful history of non-violent protest movements over the past century is well-timed with the revolutions in the Arab street, and even closer to home in Wisconsin.
The documentary is sure to arouse some cynicism from hardened critics who dismiss the film as New Age drivel or faulty science (as when Shadyac humorously demonstrates the impact of his feelings on a bowl of yogurt). That would be unfortunate, and unfair.
The film may fall short in convincing viewers about the underlying cause of the world's ills -- war, hunger, poverty and the environmental crisis. However, what I Am accomplishes in 76 minutes is to lift up the wellspring of compassion and empathy that is hard-wired in each of us, point to the invisible threads of energy that bind us, and remind us that, in the words of the late Howard Zinn, "change comes from millions of tiny acts that seem insignificant."
Audiences who care about these themes (and why not everyone?), should get to I Am early in its theatrical run to help expand its limited release and move its message into the cultural zeitgeist.
I suspect the film could have its greatest impact among young people. While the so-called Facebook generation can be driven to distraction and navel-gazing, many of them know, deep inside, that adults have left them (and their children) a broken world.
"The younger generation from age 12 and up love this film," Shadyac told a sold-out audience at a screening in Marin County last Saturday night. "They are so open and closer to the source."
The past decade has seen a stream of documentaries that catalog the failed systems of the world -- from the environment (An Inconvenient Truth) food (Super Size Me and Food Inc.) education (Waiting for Superman and Race to Nowhere) health care (Sicko), and the U.S. financial system (Capitalism: A Love Story and Inside Job).
I Am and its director are a welcomed newcomer to the documentary scene, especially since, in the end, the film offers a hopeful antidote to disconnection and despair. It is a wake-up call to the forces of good within each of us to write a new story for the world.-
Sicko is the best documentary ever.  See that one instead, and then feel how powerless you are against big money.
Try to make a simple law: 
Medicine must be non-profit
.  Make everyone sign it.  Make them vote for it.
Noble Goals 
of a millionaire's "Foundation"
 ... they invest in the stockmarket to exploit the poor, then they make small foundations.

The Foundation For I Am (FFIA) is a 501(c)(3) and as such is a California Nonprofit Benefit company. (June 2010) The EIN# for the foundation is 27-3598794.
The specific purpose of this corporation is to meet the physical, emotional, and spiritual needs of those impoverished in our society. We will use our resources to feed the hungry, shelter the homeless, and comfort the sick; we will also serve those in spiritual need, those suffering from a different kind of poverty, a poverty of perspective and purpose, through educational programs that will foster a dialogue around the ideals of love, compassion, kindness and empathy. In addition, we will financially support existing non-profits whose work is kindred with the Foundation's principles. Ultimately, the goal of The Foundation for I AM is to help usher in a more loving, kind, compassionate, and equitable world for all.
Organizations We Support
Invisible Children
Invisible Children is a movement seeking to end the conflict in Uganda and stop the abduction of children for use as child soldiers.
Free The Slaves
The Center of the Modern American Abolitionist Movement inspired by Kevin Bales' book, Disposable People, works to abolish slavery worldwide.
St. Jude Children's Research Hospital
The mission of St. Jude Children's Research Hospital is to advance cures, and means of prevention, for pediatric catastrophic diseases through research and treatment. Consistent with the vision of our founder Danny Thomas, no child is denied treatment based on race, religion or a family's ability to pay.
St. Jude Children's Research Hospital
The mission of St. Jude Children's Research Hospital is to advance cures, and means of prevention, for pediatric catastrophic diseases through research and treatment. Consistent with the vision of our founder Danny Thomas, no child is denied treatment based on race, religion or a family's ability to pay.
The Haven
The Haven at First & Market is a safe and welcoming place for the homeless and very poor of Central Virginia to be during the day. Opened for business on January 18, 2010, The Haven at First & Market provides this community with a central place to receive vital services and get connected to social service providers.
Shadyac was born in Falls Church, Virginia, to Julie and Richard Shadyac, a lawyer of Lebanese decent.[2] His mother, Julie, who died of cancer in 1998, had become semi-quadriplegic and spent much of Shadyac's adult life in a wheelchair.[1]
Shadyac graduated from J. E. B. Stuart High School in Falls Church, Virginia, in 1976 where he had played basketball, participated in the Key Club and made the Junior National and National Honor Societies. In both 1975 and 1976 Tom was included in Who's Who Among High School Students.
His older brother, Richard, was an attorney and is currently CEO of St. Jude's Children's Hospital fund-raising arm, ALSAC.
As a pre-law student at the University of Virginia, Shadyac produced a poster entitled "Are You a Preppie?" Borrowing from the style of National Lampoon and from the fact that preppies were in strong supply in Charlottesville and nearby Richmond, Virginia, the poster preceded the more famous The Official Preppy Handbook. The poster went into multiple printings and served as a fund-raiser for his fraternity, Sigma Chi.
He graduated from UVA in 1981, and later from UCLA Film School.
Shadyac married actress Jennifer Barker in June 1997; they subsequently divorced.
In 2007 Shadyac suffered post-concussion syndrome after a bicycle accident in Virginia, experiencing months of acute headaches and hyper-sensitivity to light and noise. The injury followed the cumulative effects of previous mild head injuries Shadyac had suffered surfing, mountain biking and playing basketball. He subsequently gave away his excess fortune (e.g., opening a homeless shelter in Charlottesville, Virginia and making a key donation to Telluride, Colorado's effort to set aside a natural area at the town's entrance), reoriented and simplified his life, sold his 17,000 square foot Los Angeles mansion and moved into a trailer park – albeit the exclusive
Paradise Cove trailer park in Malibu.
Paradise Cove, a trailer park in Malibu, California, connected to the likes of Pamela Anderson, Minnie Driver, and Mathew McConaughey and boasts amenities like Sub-Zero appliances and Italian granite counter tops.
What image comes to mind when you think of "mobile homes" and "trailer parks"?  I bet it is not this:
US luxury home.. trailer park .. lovely neighbors, all so rich and friendly.

Iraq Afghanistan 9/11
And I bet the $1 million price tag doesn't match the sterotype, either.
This is the view from the Paradise Cove mobile home park in Malibu, California. 
He later began work on the documentary I Am – which explores his personal journey, "the nature of humanity" and "world's ever-growing addiction to materialism."
posted by u2r2h at Saturday, May 07, 2011