BIG electric cars - Lincoln Volt - Teslamotor
The Lincvolt: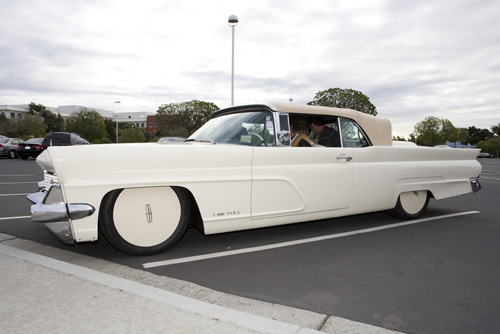 LincVolt, a 1959 Lincoln Continental Mk IV, the car of American dreams of old, has been re-powered by Neil Young with a new series-hybrid system to run on biodiesel and electricity, enabling it to achieve emissions lower than a Prius or similar hybrid car, or any gasoline powered car getting less than 80 mpg.
Apart from all that, Neil Young, the geezer-rock specialist, has put together a team to build a car that can get 100mpg and travel in style. The basis is a 1959 Lincoln Continental Mark IV convertible.
Yep, a classic Lincoln becomes the framework for a radical re-think in hybrid design technology. Young says he wanted to do it with a real car, not some plastic pile of junk, and to do it in style. So he chose his favorite: the 1959 Lincoln. The car's build and tinker phase was only five short months and it is now on the road, cruising America.
The backbone of the car is a 150kW motor, a bank of lithium-ion batteries, and a small generator capable of running on cooking grease, biodiesel, vegetable oil, kerosene, or any combination of these. "It will even run on unleaded if you really want to," Young laughs.
The car's chief designer is the car conversion legend Johnathan Goodwin of H-Line Conversions. In an interview, Goodwin says the greatest challenge was the five thousand pound weight of the car and making it move without a lot of power waste or a sluggish feel. He also wanted to make it perform well enough that it would be an entrant into the Progressive Automotive X-Prize competition.
Neil Young wanted a classic car that gets 100mpg and drives like a smooth dream. He also wanted it to be primarily electric, but to have a very long range, which meant a fuel source. That fuel source, he insisted, could not be gasoline and ideally would be a multitude of readily-available fuels.
Both men came together and have achieved their wishes. The Linc Volt is currently running on the afore-mentioned electric motor and a temporary compressed natural gas (CNG) engine while the new generator is tweaked and perfected in Australia.

The Tesla Model S electric car. Photo: Tesla Motors
Tesla Roadster
The Tesla Roadster is a battery electric vehicle (BEV) sports car produced by the electric car firm Tesla Motors in California. The Roadster was the first highway-capable all-electric vehicle in serial production available in the United States. Since 2008 Tesla has sold 1,650 Roadsters in 30 countries through March 2011. Tesla began producing right-hand-drive Roadsters in early 2010 for the British Isles, Australia, Japan, Hong Kong and Singapore.

The Roadster is the first production automobile to use lithium-ion battery cells and the first production BEV (all-electric) to travel more than 200 miles (320 km) per charge. The world distance record of 501 km (311 mi) for a production electric car on a single charge was set by a Roadster on October 27, 2009, during the Global Green Challenge in outback Australia, in which it averaged a speed of 25 mph (40 km/h). In March 2010, a Tesla Roadster became the first electric vehicle to win the Monte Carlo Alternative Energy Rally and the first to win any Federation Internationale de l'Automobile-sanctioned championship when a Roadster driven by former Formula One driver Érik Comas beat 96 competitors for range, efficiency and performance in the three-day, nearly 1,000-kilometer (621 mile) challenge.

According to the U.S. EPA, the Roadster can travel 244 miles (393 km) on a single charge of its lithium-ion battery pack, and can accelerate from 0 to 60 mph (0 to 97 km/h) in 3.9 seconds. The Roadster's efficiency, as of September 2008, was reported as 120 mpgge (2.0 L/100 km). It uses 135 Wh/km (21.7 kW·h/100 mi, 13.5 kW·h/100 km or 490 kJ/km) battery-to-wheel, and has an efficiency of 88% on average.

The Roadster has a base price of US$109,000 in the United States, £86,950 in the United Kingdom, and €84,000 in continental Europe. As an electric vehicle, the Roadster also qualifies for several government incentives in many nations. Tesla intends to sell the current version of the Roadster until early 2012, when its supply of Lotus Elise gliders is expected to run out, as its contract with Lotus Cars for 2,400 gliders expires at the end of 2011. The next generation is not expected to be introduced until at least 2013.


posted by u2r2h at Wednesday, May 25, 2011
1 comments